Are you a fan of coconut?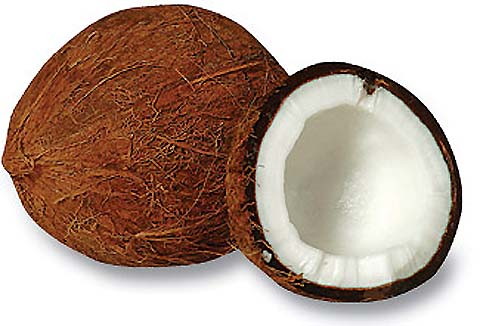 Photo Credit: cpronline(dot)com
Does it's aroma send you into a world of culinary joy?
Do you want to know more about the health benefits and numerous uses for coconut?
If not, then this article IS NOT FOR YOU.
Everyone else.....please read on...
First Of All...
Occasionally, I get questions from readers about different health-related issues, foods and fads. As I have said before, I do not claim to be an expert at any single subject, but I do consider myself to be a fairly competent researcher.
Recently, I received a question about the coconut oil health craze of the early 2000's. The reader (name withheld per request) was thinking about using coconut oil (or coconut butter) as a nutritional supplement due to its alleged health benefits.
This article is not meant to support nor to dissuade your decision regarding this plant-based diet option. I'm only presenting the facts (as I have found them). You and your physician should decide what the best option is for you.
What's The Deal With Coconut Butter?
Coconut butter, which is also commonly referred to as coconut oil consists of over 90% saturated fat (up to 92% according to some recent findings).
As it's name implies, this versatile oil is obtained from coconuts and is commonly used for cosmetics, baking ingredients, cooking oil and even biodiesel fuel (more on this later).
Coconut oil is rich in fatty acid like lauric acid and is considered to be one of the more stable of all vegetable oils (yes, it is considered to be a vegetable oil).
Advocates
consider it to be an overall healthy product which may increase metabolism and improve your body's ability to fight sickness by strengthening your immune system. As we all know, once your immune system becomes weakened for any reason, your susceptibility to numerous diseases increases greatly.
How Many Ways To Use Coconuts?
Image Credit: travelonline(dot)ph
The
Philippine Islands are the
world's largest exporter of coconut oil. This island country receives nearly 10% of it's total export income from this product alone.
Due to it's sterile properties, coconut water was even reportedly used as a blood plasma substitute back in World War 2. Coconut water has also been recently touted by fitness experts as an effective re-hydration option. There are, according to some medical experts, not enough electrolytes in coconut water needed to rehydrate and it should only be used as a supplemental method.
Despite coconut oil's purported high fat content, many tropic and sub-equatorial populations that traditionally consume significant quantities of it also have fewer reported cases of heart disease. (This, of course, may also be attributed to other factors such as healthier food and lifestyle choices that may help offset some negative effects of coconut butter/oil.)
In addition to its cited health benefits, coconut oil has even been used as an alternative to fossil fuels in countries like Thailand & Vanuatu. Unfortunately, it has also been faced with processing difficulties due to its high melting point.
It has been used as a hair care treatment option in India. There are numerous cosmetic products worldwide that are made with this oil as well. Many people have found it to be an effective skin moisturizer.
Coconut oil is believed to be both effective and safe when used in connection with skin care. Thus far, it is not been shown as being contributory to any known allergic skin reactions.
In fact, some users have actually reported improvements in specific skin conditions after using coconut oil. Among them, eczema, which is a very uncomfortable rash that develops in the form of small blister-like lesions.
Coconut butter's antiseptic properties have been credited with reducing skin infections and irritation by fighting off harmful bacteria & certain viruses.
Coconut oil for eczema helps to calm flare-ups, and helps to heal rashes, infections and skin damage caused by the condition. In a price comparison of coconut oil and eczema prescription medications, coconut oil is far cheaper. - See more at: http://www.coconutoilfacts.org/coconut-oil-for-eczema.php#sthash.EGc97n5X.dpuf
Coconut oil contains antibacterial, antifungal, antioxidant and antimicrobial properties that help to prevent infections and help to heal broken raw skin. - See more at: http://www.coconutoilfacts.org/coconut-oil-for-eczema.php#sthash.EGc97n5X.dpuf
Coconut oil contains antibacterial, antifungal, antioxidant and antimicrobial properties that help to prevent infections and help to heal broken raw skin. - See more at: http://www.coconutoilfacts.org/coconut-oil-for-eczema.php#sthash.EGc97n5X.dpuf
A Couple Considerations...
As I mentioned previously, coconut oil has been found by various medical experts to be high in saturated fat. Some researchers believe it significantly increases the risk of cardiovascular disease and may even contribute to the development of type-2 diabetes.
Just like any other natural food, coconut oil can be safely enjoyed by most people, but physician-guided moderation is highly recommended until adequate research is conducted on it's long term dietary effects.
*Authors Note: The information contained in this article is expressly intended for informational purposes only. It should not be considered as, or used in place of sound medical advice or professional recommendations for any type of treatment, cure or remedy for various skin conditions and/or other illnesses. Prior to beginning any treatment regimen, including those which use coconut oil, individuals are strongly urged to consult with their physician and/or dermatologist for proper diagnosis.
That's my view on this subject, what's yours?
Leave a comment below.
Like what you're reading? I knew you would! Get instant access to all future

KurtMIND

updates! Join The Health Revolution!! Get free updates using our sign-up options in the "Comments" box under the articles! Get the

RSS

feed too! Don't get left behind! "Your Health Is Your Wealth!!"